sorry, that it's been a while! i'm back :)
something i definately want to talk about is the band Santa Cruz, another great modern Glam Metal band out of the Scandinavian area that's bringing back that old 80's sound that i love.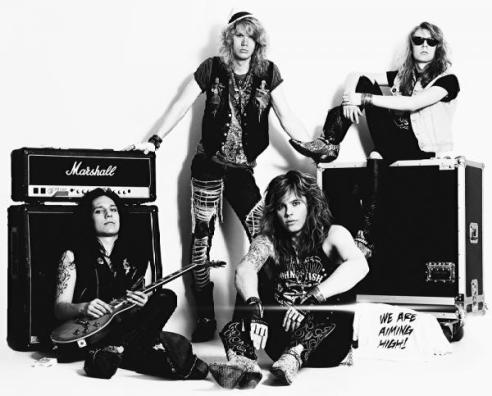 this is another band i found out about via last.fm, (what will always be my favorite internet radio streaming site,) after putting in Reckless Love. both being glam metal bands from Finland, i was excited when i found this video of Santa Cruz preferoming at what looks to be a house show with Olli Herman from Reckless Love (& formerly Crashdiet)
the biggest difference between these guys and say Hardcore Superstar, Reckless Love and Crashdiet is the age difference - while the guys in those bands are in their 30's, the guys in Santa Cruz are my age (some a little younger!) but they've perfected their style and rock JUST as hard!
That means when they released their EP "Anthems for the Young 'n Restless" (which they produced themselves,) they were only 17 and 18 years old...i was 18 in 2011, i was supposed to graduate that year. it's almost a mindfuck!
"Mama don't worry I'm just livin' it up
Nothing's gonna stop me 'cause I don't give a
fuck
!"
i love that song!
If you haven't listened to Santa Cruz before, i definately recommend listening to their music in chronological order. something i really love about them is that i can hear bits and pieces of both oldschool and modern influences in a way that makes it still sound like the retro sounds i love but in a refreshing new way.
for example, this song "Wasted & Wounded,"
one of their more recent singles (oct.2014)
the beginning actually reminds me alot of the band Lovex (another Finnish band) and then they rip into this heavy riff remeniscent of a lot of modern metal bands, but then you get the squealing guitar solo that says "we're still a bad ass glam metal band" and the vocal style and chanting just pulls it all together.
here's there latest song, released only a week ago,
called "My Remedy," which they are currently shooting an official video for according to their FB:
I've always liked them, but now that my attitude in life has taken a bit of a turn, i'm about to appreciate this band a lot more than i did before. on top of that, i missed their show in NYC as i was seeing HIM in another city, but i'll being seeing the amazing Santa Cruz this May upstate at Rock On The Range! I'm extremely excited for that :) and you will DEFINATELY be getting a report!
my boyfriend won tickets to ROTR, so i plan to blog about that entire festival.
this band makes me feel a little revived in life, about how my dreams of starting a band of my own aren't out of reach just yet...and that there ARE people my age that still love the oldschool!
i'm excited for what is to come from this band and can't wait to see them live.
their next album will be released March 10th in the USA!
thanks for reading!